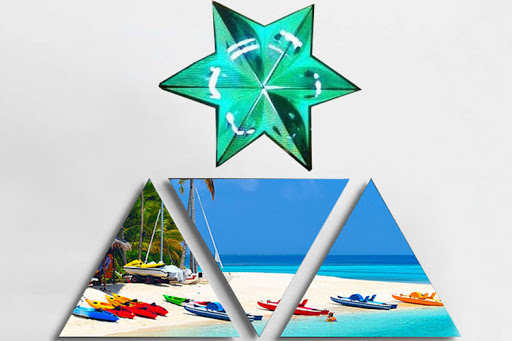 LED triangle board Features:
1. Splice into a polygonal display screen such as diamonds and triangles as needed to decorate indoor walls and floors.
2. The display has high contrast, good flatness and small splicing gap.
3. The display image has no mosaic phenomenon, uniform color, high contrast, strong luminous brightness, and the picture is clearly visible.
4. Using distributed scanning and modular design technology, the reliability and stability are higher.

Unique shape, singular appearance, 100% customized, special-shaped screenShow different colors and creative changing effects to
show your personality.
Not only can it be spelled into triangles, but also according to customer needs,Combined with diamond, gem, star, horn and other
regular or irregulargeometrical LED display screens.
Technical parameters of Triangle LED Display
| | | | | | | |
| --- | --- | --- | --- | --- | --- | --- |
| Model | p2 | p2.5 | p3 | p4 | P4 | p5 |
| Pixel pitch(mm) | 2mm | 2.5mm | 3mm | 4mm | 4mm | 5mm |
| LED Type | SMD1515 | SMD1515 | SMD2020 | SMD2020 | SMD1921 | SMD2727 |
| Application Environment | indoor | indoor | indoor | indoor | outdoor | outdoor |
| Pixel density(pixel/㎡) | 250000 | 160000 | 111111 | 62500 | 62500 | 40000 |
| LED panel size | customize | customize | customize | customize | customize | customize |
| Refresh rate(HZ) | ≥1920 | ≥1920 | ≥1920 | ≥1920 | ≥1920 | ≥1920 |
| Cabinet size | customize | customize | customize | customize | customize | customize |
| Brightness | 800cd-1000cd | 800cd-1000cd | 800cd-1000cd | 800cd-1000cd | 4000cd-5000cd | 4000cd-5000cd |
| Average power(w/㎡) | ≤240 | ≤220 | ≤230 | ≤220 | ≤300 | ≤300 |
| Maximum power(w/㎡) | ≤660 | ≤650 | ≤640 | ≤650 | ≤950 | ≤950 |
| Maintenance method | Front | Front | Front | Front | Front | Front |
| Waterproof level | IP32 | IP32 | IP32 | IP32 | IP65 | IP65 |
| Input voltage | AC100V-240V | AC100V-240V | AC100V-240V | AC100V-240V | AC100V-240V | AC100V-240V |
| Service life | 100,000 hours | 100,000 hours | 100,000 hours | 100,000 hours | AC100V-240V | 100,000 hours |