Advantages of LOGO word LED display:
1. Splice into any shape to mark the display screen according to the needs, use corporate logo, commercial decoration, advertising needs, etc .

2. Outdoor LED display products for the company's trademark, name, business and other advertising needs, both lighting and display in one;

3. The display screen has high contrast, good flatness, and small splicing gap;

4. The display image has no mosaic phenomenon, uniform color, high contrast, strong luminous brightness, and the picture is clearly visible;

5. Adopt distributed scanning and modular design technology, with higher reliability and stability.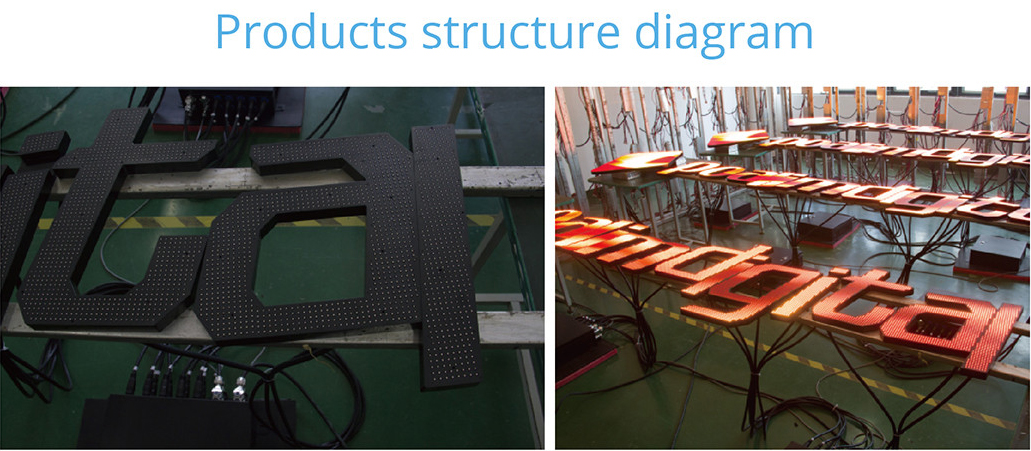 Technical parameters of logo led display
| | | | | | | |
| --- | --- | --- | --- | --- | --- | --- |
| Model | p2 | p2.5 | p3 | p4 | P4 | p5 |
| Pixel pitch(mm) | 2mm | 2.5mm | 3mm | 4mm | 4mm | 5mm |
| LED Type | SMD1515 | SMD1515 | SMD2020 | SMD2020 | SMD1921 | SMD2727 |
| Application Environment | indoor | indoor | indoor | indoor | outdoor | outdoor |
| Pixel density(pixel/㎡) | 250000 | 160000 | 111111 | 62500 | 62500 | 40000 |
| LED panel size | customize | customize | customize | customize | customize | customize |
| Refresh rate(HZ) | ≥1920 | ≥1920 | ≥1920 | ≥1920 | ≥1920 | ≥1920 |
| Cabinet size | customize | customize | customize | customize | customize | customize |
| Brightness | 800cd-1000cd | 800cd-1000cd | 800cd-1000cd | 800cd-1000cd | 4000cd-5000cd | 4000cd-5000cd |
| Average power(w/㎡) | ≤240 | ≤220 | ≤230 | ≤220 | ≤300 | ≤300 |
| Maximum power(w/㎡) | ≤660 | ≤650 | ≤640 | ≤650 | ≤950 | ≤950 |
| Maintenance method | Front | Front | Front | Front | Front | Front |
| Waterproof level | IP32 | IP32 | IP32 | IP32 | IP65 | IP65 |
| Input voltage | AC100V-240V | AC100V-240V | AC100V-240V | AC100V-240V | AC100V-240V | AC100V-240V |
| Service life | 100,000 hours | 100,000 hours | 100,000 hours | 100,000 hours | AC100V-240V | 100,000 hours |